Want a more complete list of Patchy beard styles? This article takes a look at the different types of beards, including mutton chops, goatees, and more.
Introduction
Are you looking for answers on How do I shape my patchy beard? how many types of Patchy beard styles are out there? and how to achieve the perfect look? Then you are on the right blog. There is a lot of talk about patchy beard styles these days, but what exactly are patchy beard styles?
I'm going to answer your all question and at the end of this blog, you will have a clear idea of Patchy Beard, how many types of patchy beards are there and how they can be shaped, whether will they look good, and whether are they trending?
Let's dive in deep to understand!
What causes a patchy beard?
If you also have a patchy beard then you don't need to feel embarrassing, According to the latest survey, 20 percent of the people in the world have a patchy beard. So calm down, you are not the only one in the world with a patchy beard even many Celebrities have patchy beards. But now one important question arises can I fix a patchy beard? But I advise you, before fixing it you should know what is causing it.
Stress & lifestyle, genetics, hormonal imbalance, poor diet, exercise habits, old age, grooming mistakes, and Alopecia Areata are a few factors that could cause beard patchiness.
First, let the beard grow well and take good care of the beard hair, follow a good diet, keep a healthy lifestyle and do regular exercise. If there is any medical reason then take the advice of a good dermatologist.
Can a patchy beard look good?
Yes, a patchy beard can also look good if it is styled correctly. Yes, but you have to take care and consider a few things, like what is your face shape, hair type, and level and location of patchiness on your face.
Does shaving fix a patchy beard?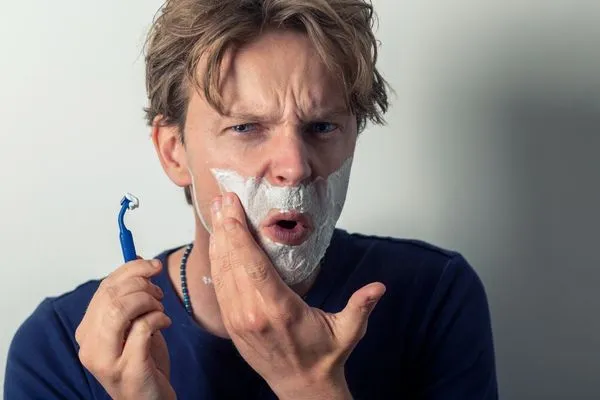 In my opinion, shaving will not fix your patchy beard problem completely but yes it could help you to look groomed if you have a very patchy beard and if patchiness is light then it could worsen your look.
But guys you don't need to worry because this can be handled with proper grooming practices such as taking care of your beard properly by using good quality beard shampoo and oil.
How do I shape my patchy beard?
Having a Patchy Beard is not at all an unfortunate thing, yes I agree, maintaining a patchy beard and shaping it is a bit tricky but with a good grooming kit and product, you can achieve a great look and sharpness.
Before I start to explain to you how you shape your patchy beard? Keep in mind patchy beard growth pattern can differ from person to person, one can have less patchiness and the other can have more patchiness.
Let's begin the process
Step – 1
Use a good quality trimmer, and trim excess hair by keeping a trimmer in your desired settings. This is a basic step to follow and I'm sure you guys already know this step but very important is to make sure you cover your entire face area to trim excess hair evenly.
Step – 2
The most important step is to completely shave your neck area using a straight blade razor because it is very important to differentiate your chin and neck parts to look more sharp and neat but be careful while shaving at home using a straight blade razor, a small mistake can lead to cuts on your face which we don't want to have it, Arent, you?
Step – 3
The final step, nourish your beard by applying some good quality and natural beard oil.
Which style to choose Long patchy beard styles or Short patchy beard styles
If your face is oval shaped then you can keep the long patchy beard style, it will enhance and add personality to your look.
Short patchy beard styles are more suits to a round face shape, if you are a person with a round-shaped face then you should have a short or medium patchy beard style.
To have good-looking short patchy beard styles try a style that is shorter on the sides and longer on the chin and make sure to trim neatly around the edges.
Getting a good-looking beard for a round face is a real challenge and I have written a complete blog on the best beard styles for round face, must also check out this blog.
Types of Patchy beard styles
Many youths who have patchy hair growth on their faces are worried mainly about two things how do I shape my patchy beard? Second how many types of Patchy beard styles are out there? If you remember I asked this same question in starting of this blog, and now it's time to answer it. There are many different types of patchy beard styles that you can choose from. Some of the most popular styles include the goatee, the chin strap, and the mustache. Each of these styles has its unique look that can help to add personality and character to your appearance.
Goatee
The goatee is a popular choice for many men because it is relatively easy to maintain. If you have a good volume of hair on your chin and patchy hair on your cheeks then the Goatee beard style is the best match for you. This style consists of a small patch of hair on the chin, which is often trimmed into a pointed shape. The goatee can be paired with a mustache or worn on its own.
Chin Strap
The chin strap is another popular patchy beard style. This style is ideal for you if you have a very less or patchy beard on the upper part of the chin and cheeks area. This style is created by shaving the hair on the sides of the face and leaving a thin strip of hair along the jawline. The chin strap can be worn with or without a mustache.
Mustache
The mustache is a classic facial hair style that has been around for centuries. A mustache can be worn with or without a goatee. This style is usually achieved by growing the hair on the upper lip and trimming it into the desired shape.
Van Dyke
The Van Dyke is another popular patchy beard style, I have written in detail about the Van Dyke beard style on my other blog "best beard styles for round face". Let us come back to the topic.
Van Dyke is characterized by a small tuft of hair on the chin and a long mustache. It is a stylish and sophisticated look that can be worn with or without a beard.
The muttonchops are a type of patchy beard style that is characterized by long, bushy sideburns that extend down the cheeks. They can be worn with or without a mustache, and they are a great choice for those who want a more dramatic and eye-catching look.
Conclusion:
Patchy beards are not necessarily something to be embarrassed about, however, they are not particularly attractive either. You should always make the effort to look your best. If you are not comfortable carrying a patchy beard then you can have a clean-shaven look, this look is evergreen and looks best on all types of face shapes.
Related Articles:
Beard styles for round face: Here is a list of 10 awesome beard styles